Watermark NY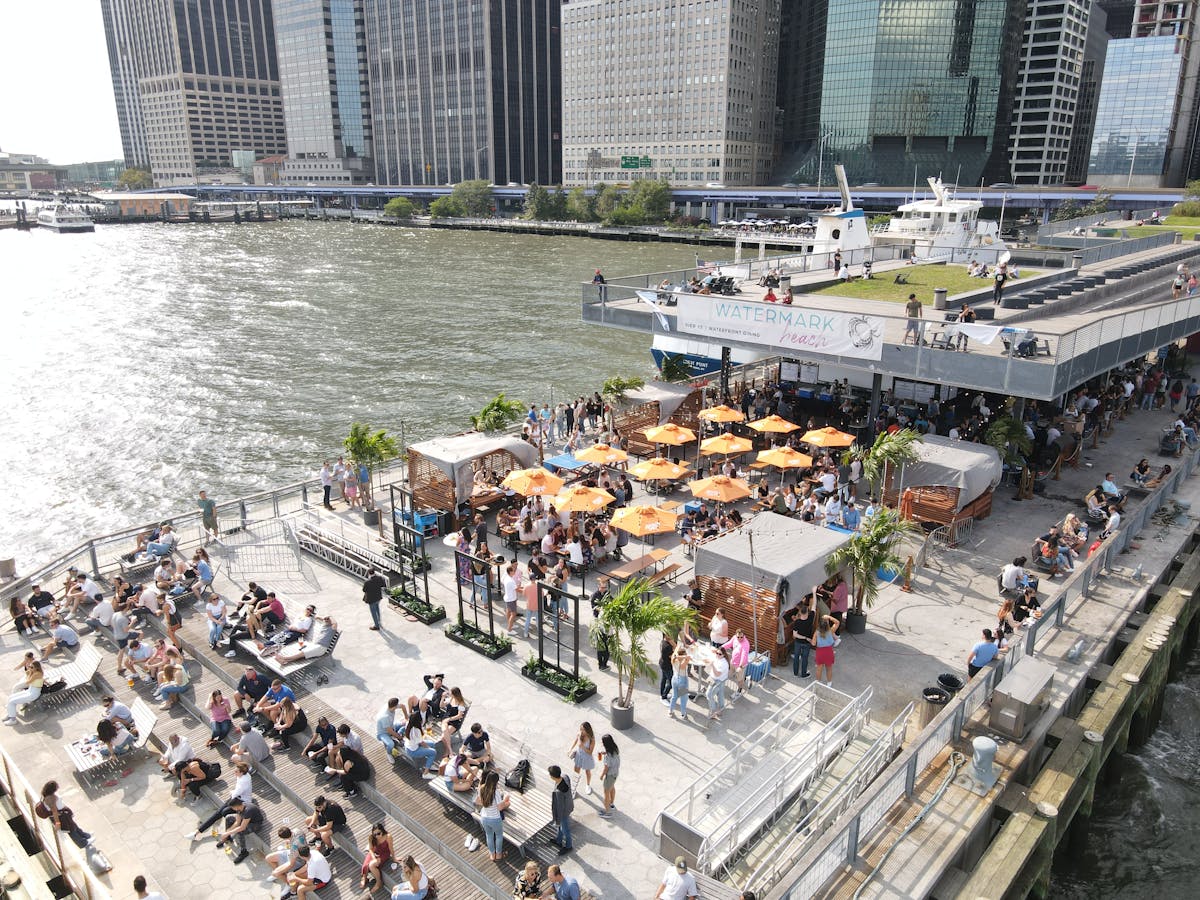 Main Website: www.watermarkny.com
Location:
Pier 15 | 78 South Street, New York, NY 10038
T: (212) 742-8200
Watermark Waterfront Bar
Watermark Bar is a stunning 3,500 square-foot venue with indoor and outdoor space, perched on the edge of the ultra-modern new double level Pier 15 adjacent to NYC's historic South Street Seaport. With its strategic position on the East River, Watermark Bar aims to enhance appreciation of the waterfront through a sophisticated and stylish, yet serene bar and lounge atmosphere with an unparalleled panorama of the New York Harbor and Brooklyn, Manhattan, and Williamsburg Bridges.
Coupled with Pier 15's futuristic architecture of the Pavilion created by ShoP Architects, Watermark Bar features cutting-edge interior design by Wid Chapman Architects. Steel and glass make up the structure of the venue and floor-to-ceiling windows seamlessly separate the indoor and outdoor areas, framing a picturesque view of the waterfront that can be enjoyed all year. Accommodating up to 200 seated indoor and outdoor, guests can choose from the cherry red bar stools that punctuate the bar's dark reclaimed wood décor with a pop of color, or take a seat on any of the wooden tables and benches that fit parties of four or more. The eight HD-TV's surrounding the space coupled with the state-of-the-art sound system ensures guests won't miss a beat of the entertainment from any seat in the house.
Patrons can take in the eye-catching views and the Seaport's historic vessels docked nearby while indulging in a wide variety of locally and domestically sourced craft beers, top-shelf liquor options and signature cocktails crafted by in-house Mixologist Extraordinaire Jeremy Strawn. In the kitchen, Executive Chef Jason Mayer will be offering a gourmet twist to American Grille cuisine including a signature burger selection unique to Watermark Bar.
The venue is a joint venture between Merchants Hospitality, a full service hospitality company behind the brands SouthWest NY, Merchants NY, Merchants Cigar Bar, Neelys Barbecue Parlor, Merchants River House, Quality Burger, Pound and Pence Pub & Restaurant, Oaxaca Mexican Grill and most recently Black Hound, among many others, and The Lure Group, the masterminds behind Beekman Beer Garden, Governors Beach Club and Slate in NYC.